Desertpeace
Photo by Eran Wolkowski
*
How much could a washed up old war criminal be worth?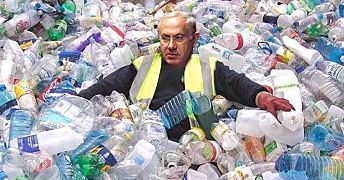 Bottles-for-cash corruption scandal embroils Netanyahufamily
Israel's Prime Minister Benjamin Netanyahu on Friday dismissed as "false" reports that his wife Sara had pocketed at least $1,000 worth of public money by returning empty bottles to supermarkets.The reports, which were cause for ridicule in local media, come as the head of the rightwing Likud party prepares to seek re-election in a snap March vote.
In a long Facebook post, Netanyahu hit out at "false accusations against me and my wife that seek to topple the Likud and bring the left to power."
"All of this aims to detract attention from what is really important — who will lead the country," he wrote.
Earlier this week, reports emerged that Sara Netanyahu had during her husband's second term as prime minister (2009-2013) collected a vast amount of…
View original post 202 more words